THE COBB GRILL
The worlds most versatile & portable outdoor cooker. From frying breakfast on your boat to cooking stews in the hills, you don't  need to be a chef to easily conjure up magic meals in the most remote of locations.
SHOP COBB GRILLS
The award winning COBB portable BBQ - smoking hot on the inside yet cool to the touch on the outside. Portable, durable, eco-friendly and safe, offering the versatility you need for the ultimate outdoor cooking experience. With accessories that allow you to roast, smoke, bake, fry, boil, grill and steam – your cooking options are endless.
How it works - While searing hot on the inside, the external base always remains cool to touch due to the unique double walled design. This makes for safe, hassle free cooking, with no external heat transfer through the base. The dome lid design is optimum for containing heat & protection from the elements, making the COBB able to reach high temperatures with minimal fuel and burn charcoal or gas more economically than any other cooker.
GRILL
The ultimate portable BBQ. Grill your meats and get that perfect sear using the Griddle+ accessory.
FRY
The Frying Pan is our most loved accessory, the non-stick is a dream. Perfect for cooking up breakfasts. For frying up larger meals like stir fry's, use the Wok accessory. You can even use the Wok for deep frying.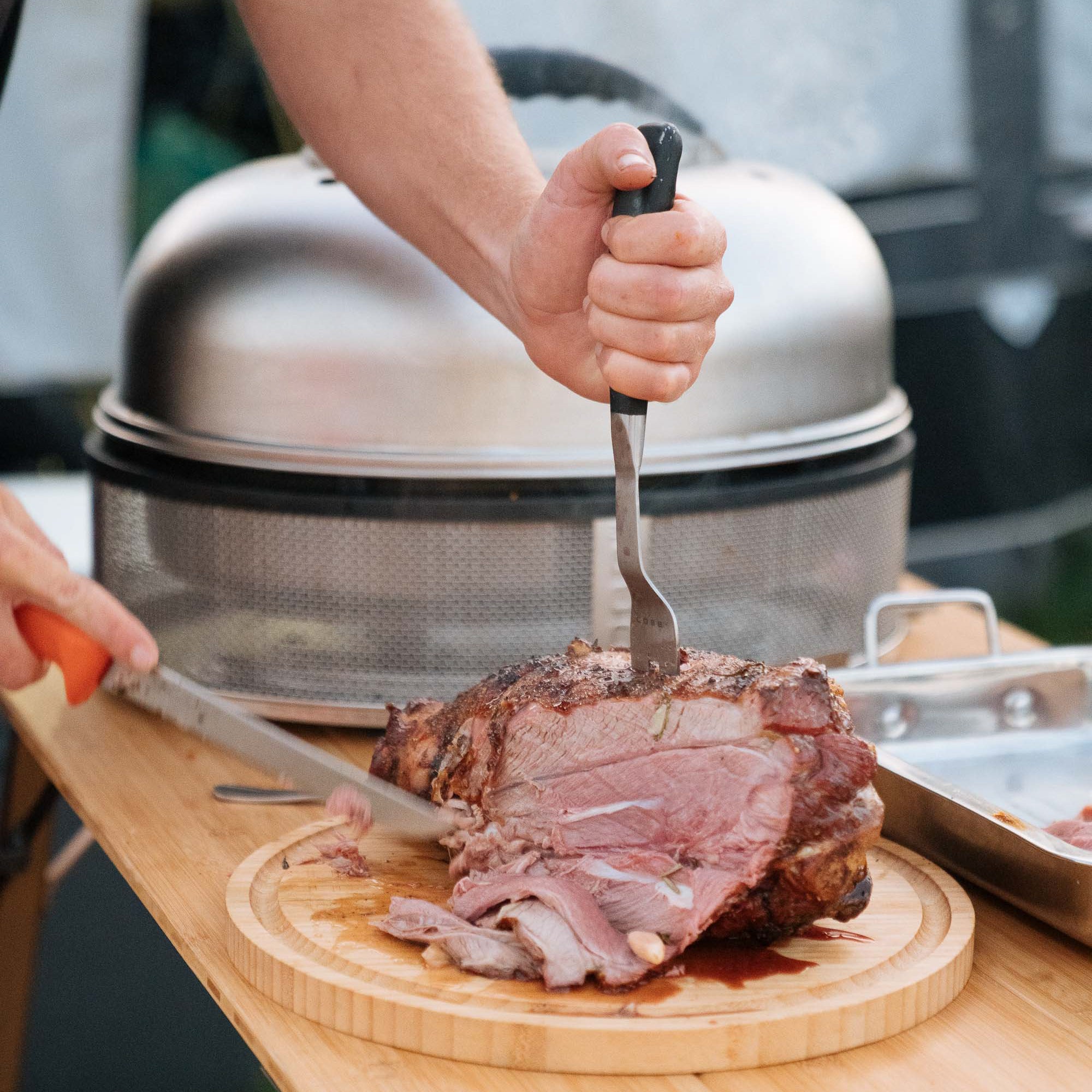 ROAST
A portable oven. Use the Roast Rack accessory to prevent any direct heat transfer. Roast & even slow cook large cuts of meat. With the Dome cover on, internal temps reach 230°C. Plus, you can roast your sides inside the moat of the COBB whilst grilling on top.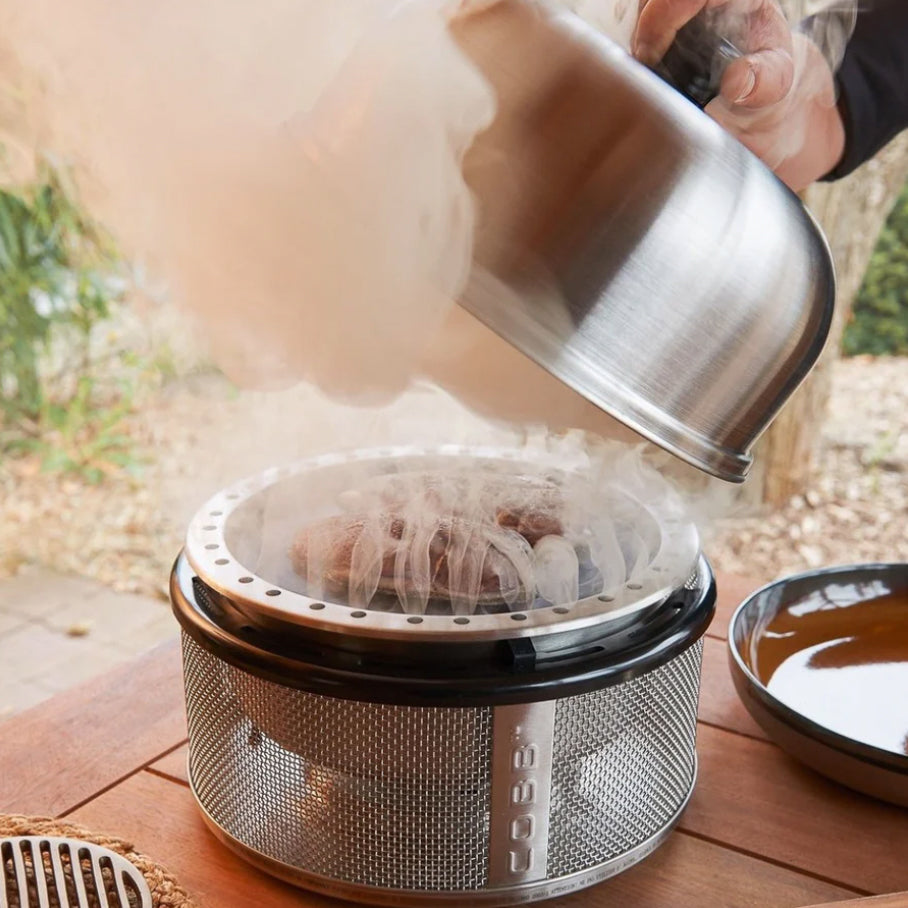 SMOKE
Simply sprinkle some wet smoking chips on top the the coals if you are using the charcoal COBB, or place a small dish filled with smoking chips on top of the flame dish on the COBB Gas & watch it smoke away. Use the Roast Rack accessory for an even all around smoke.
BAKE
From fresh baked bread, pizza to cakes and deserts, the COBB is capable of baking just about anything. Baking times are approximately the same as a conventional oven. Cook the perfect pizza using the Pizza Stone accessory. For the optimum baking experience, use the Roast Rack accessory.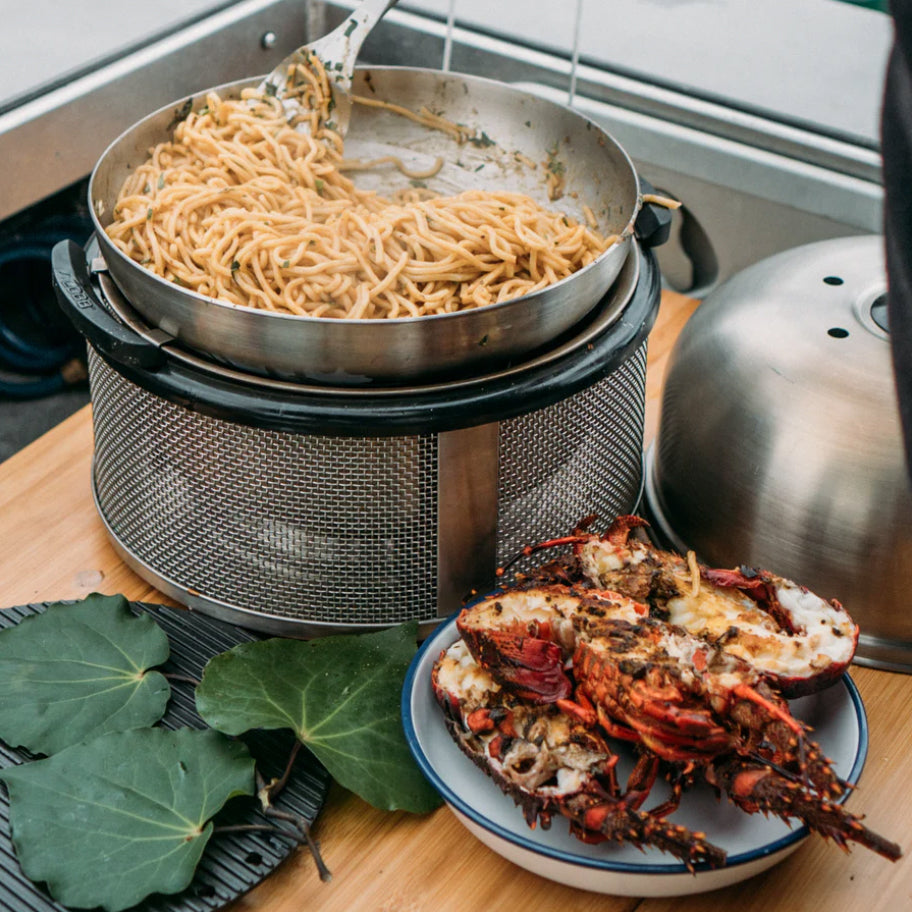 BOIL & STEAM
It's easy to boil up soups, noodles, pasta's and rice on the COBB. Use the Wok accessory or any standard cooking pot that fits into the COBB. Steam veggies, fish, dumplings etc by placing the roast rack inside the Wok, add water, and cover using the dome cover.
COBB GRILLS
Wherever the journey may take you, we have a COBB that will fit the ride.